Nick Scali Leather Types/Guide
There are many types of leather which are suitable for different uses. How do we know what is the best leather for your needs? Simple! Your lifestyle will determine which is right for you. To make it even easier, we have grouped our leather into three lifestyle categories: Protection, Performance, Natural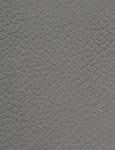 Protection Leather
Everyday family use (Corrected grain, buffed or pigmented leather). Active families require leather that offers a high degree of protection and is particularly forgiving. It is highly resistant to liquids,sunlight and handles the wear and tear that an active lifestyle demands. Protection leather requires little maintenance and has been embossed to ensure consistency in colour and texture. Ideal for families with children!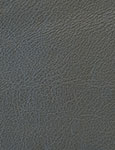 Performance Leather
Extra softness and protection(Semi-Aniline dyed top grain leather). For those not so active, yet everyday users, who enjoy the luxury of feeling soft leather. It is the best of both worlds. It combines softness with durability. This leather shows all of the distinctive markings of the animals life.It combines glove like softness with good resistance to wear and tear. More suited to couples or small families.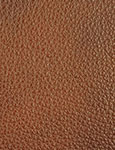 Natural Leather
Lightly protected or unprotected leather (Semi-Aniline or Full Aniline dyed, Vintage Look, Nubuck and Suede leather). This leather possesses natural beauty and is the most valuable of all. Natural markings are intrinsic traits of Natural leather as it can be treated with only the lightest impregnation of pure Aniline dye. This shows the many shade variations and adds richness to the colour.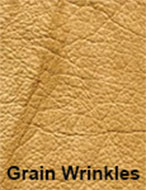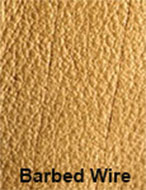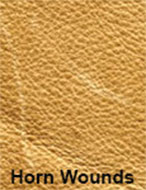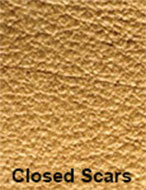 Natural Leather
As a natural product, leather's beautiful look and luxurious feel give it year round comfort and appeal. It's unique ability to breathe also makes it ideal in almost any situation. The hallmark of genuine leather is it's natural markings and imperfections - nature's signature. Because of it's organic properties, there is no one hide the same. From horn wounds and barbwire scratches, to thickness variations, these markings make your piece unique. Grain wrinkles, stretch marks and closed scars are also typical characteristics of leather, the result of age, movement and comfortable wear.
This further stamps it's authenticity as a natural product. Leather is a natural product. All of these inperfections are evidence of the product being genuine leather and are not considered to be defects in any way. Without doubt leather is the most luxurious and practical covering for upholstered furniture. Enjoy living with leather as, over time, it will adapt itself to your lifestyle and give you a truly personalised fee